All grenades are made of solid polyurethane rubber and are molded from original grenades except as noted. Grenades are supplied in "as thrown" condition as shown in the photos - no spoons or pins are provided.

Click on photos to see a larger photo.
Add a Streamer To Your Grenade

WWII German Grenades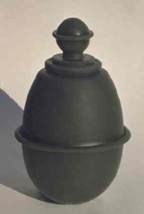 (7951) Eihandgranate 39 (early war egg grenade - no wings)

Master model for this grenade provided by Gmax.
Check out their fine reproduction German ordnance at:
http://www.pacificcoast.net/~gmax/index.htm

WWII Russian Grenades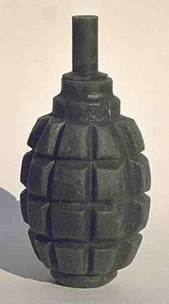 (7971) F1 Fragmentation


(7975) RGD33 Fragmentation Stick Grenade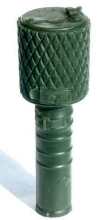 The polyurethane rubber RGD33 is reinforced with a .5" wooden dowel that runs almost the full length of the grenade.
WWII British Grenades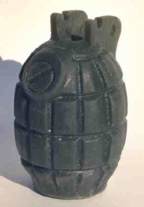 (7981) Mills Bomb (36M)

WWII US Grenades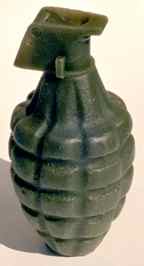 (7991) Mark IIA1 with M10 Fuse (WWII Pineapple)

(7995) M26 Vietnam Era Grenade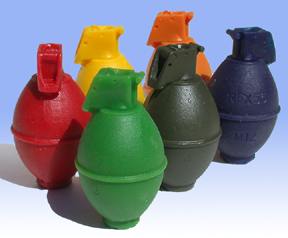 Colors available:Olive drab, bright green, red, orange, yellow and blue